Of course there is, we live at the beach, silly. But there is much more than the ocean when it comes to the water that we see, smell, feel, taste, water our gardens with and spend our leisure time enjoying.
Just for fun, why don't you take the quiz below created by The USGS Water Science School. Just click and begin, it's True/False so don't panic if tests are not your thing.
Now that you know what you did or didn't know about water in general, I would like to tell you about some specifics of our area that have intrigued me. When we first came to Palm Coast, and the Hammock specifically, we were told by a long-time resident that as a young boy his family used to come across from the west coast (of Florida) to jump off the bridges into the artesian wells from the aquifers that shot up from the ocean floor. Couple that with our "subdivision" being called Artesia and, oh my, all of the neighbors that water their lawns and plants from their artesian wells. Well, That's enough to make a girl's mind boggle.
I started my search with a definition:
adjective
relating to or denoting a well bored perpendicularly into water-bearing strata lying at an angle, so that natural pressure produces a constant supply of water with little or no pumping.

"the water from artesian wells makes agriculture possible"
I thought that I had gotten a little clarity a couple of weeks ago when a builder, the seller of the home that my client had purchased, answered my question regarding the sprinklers. Many of you may have noticed homes with orange walls around the Hammock and Palm Coast. According to the builder, who was not the well driller, those homes are not watered from Artesian wells. After doing some research, I found that may not be 100% true. Partridge Well Drilling Co. Inc of Jacksonville provides some insight regarding orange walls:
A: It is avoidable.
Not all wells contain the staining mineral iron. Floridan Aquifer wells and Intermediate Salt & Pepper wells(if available) can be drilled to avoid any iron staining. Iron can sometimes be present in Rock, Gravel Pack, and Shallow wells.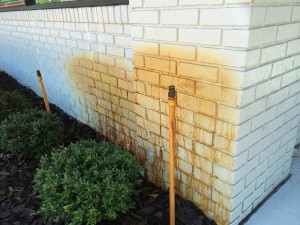 We do not recommend treating irrigation water for iron. If iron staining is a concern, we recommend drilling a Floridan Aquifer or Intermediate well.
Here are a couple of videos about an active free-flowing Artesian well and then an inactive one near Palatka and how pressure and water levels affect the flow. I would like one in my backyard now that the drought is over.
The tip of the iceberg?, maybe. At least we know how to avoid orange walls.