I was first introduced to poutine not all that far from the Hammock, at The Black Sheep Restaurant, in Jacksonville. It was recommended by my friend Deborah who had tried out many of the city's dining establishments. I, believe it or not, 3 years ago had never heard of The Black Sheep nor poutine. This was especially strange as I was born and raised in the cheesehead state of Wisconsin where my personal history led me to believe that I knew all there was to know about cheese curds. So now you know, in case you, like me, had not heard of poutine–it contains cheese curds. However, this post is not about poutine alone but about marvelous Quebec where poutine originated.
This was the third destination on our summer road trip that had already taken us to Petersburg, Virginia and Portland, Maine. So far, so good. The drive from Portland took us through scenic mountain passes and into Jackman where the road became Route 173 Route-du-President-Kennedy that led us to our first stop on Ile d'Orleans, Quebec. My husband commented that he really felt like he was on vacation when the signs all changed to French. It appears to take that jolt to his neurons to get him to switch to holiday mode. Finally, I might add, as we had already been on our road trip vacation for 8 days!
Quebec in the background with French language in the foreground
The 5 and a half hour morning drive also timed well with a search for wineries that served lunch. L'Ile d'Orleans showed a number of wineries on my Google search. Actually, it looked like there were wineries, cidreries, and makers of cassis, that amazing blackcurrant liqueur that most of us are familiar with from Kir and Kir Royale.
Cassis Monna & Filles
What we thought best about Cassis Monna & Filles was that it was the first stop upon crossing the bridge. We motorcycle riders are always good at striking up a conversations with other riders, so of course I inquired of the customer heading to his bike about how far he had ridden, in English silly me having forgotten where I was. His charming accent had him from just across the bridge from Quebec City.
Woah! $2 Canadian got a tasting of 5 of their products and of course, I bought a bottle of the most concentrated to bring home.
Better yet, we found, there was a restaurant upstairs. Truly best of all, the restaurant served duck poutine and they put cassis in the gravy! In the event that you can't make out the ingredients in the photo, Poutine includes french fries layered with cheese curds then topped with a rich brown gravy.
What a marvelous introduction to Quebec, the origin of poutine somewhere in that province and since we were pretty beered out after Portland, we had a glass of local cider.
Quebec is famous for cider, but we were on the hunt for ice wine, a delight that I had first experienced 2 years ago on our trip to Nova Scotia. Since the cidrerie that was next on our circumnavigation of the island appeared to focus on iced cider, we only darted in and out again on my quest. We did manage to make a quick turn into a nougaterie That is my husband's favorite Christmas stocking stuffer. We appreciated the free samples of nougat and a purchased a small supply that made it home but won't make it into this year's stockings at La Nougaterie Quebec.
We also tried some fried cheese at, you guessed it, a fromagerie, Fromage Ile d'Orleans. I had last had this tasty bite in Salvador, Brazil on the beach. Not all cheeses hold up to frying.
Vendange Tardive
We drove around the island once before we landed at the Vignoble Isle de Bacchus. I know, I know, it should be called a "winerie", but we are in francophone Canada and the French just wouldn't do the "sounds like" thing correctly. Several tastings of wine both red and white followed by ice wine, or vin de glace, as it is called in French and a second pressing of the ice wine, called Vendange Tardive, that we enjoyed and purchased fulfilled my quest for the time being.
Interactive map of Île d'Orléans
I wished I had found this interactive map before finding the island. Here it is for your trip. I wouldn't want you to miss anything. In fact, we might go back, for what we found and what we didn't!
The interactive map shows where the various businesses are located on the island, which can help you plan your stay on Île d'Orléans. Click on a number to learn more about that business and see its complete file. You can use the options under the map to streamline your search.
For years I thought I was pretty clever that I knew they said Mexico for Mexico City, Mexico. It never dawned on me that, of course, we have New York, New York. Well, Quebec has Quebec, Quebec (for what we call Quebec City). Our next day was spent in Vieux Quebec. We had stayed in an Airbnb in a residential district outside of the historic area but found a parking lot as close as we could have wished. The attendant recommended Paillard for our obligatory cafe au lait and pastries. A perfect choice to set us up for the morning ramble and photo opportunities.
Quebec, Quebec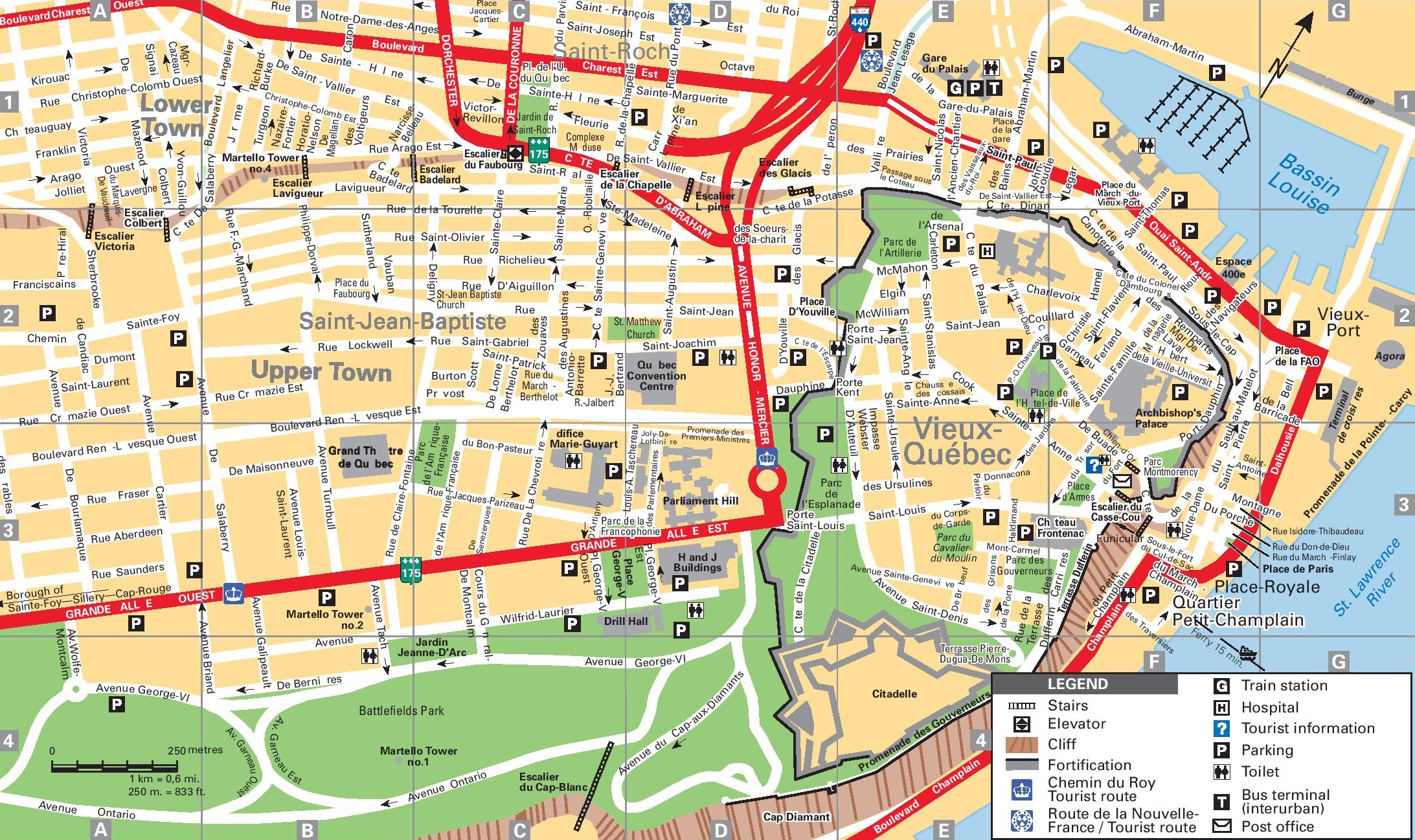 Paillard
It doesn't take foreign language fluency to get the gist of "Succombez". We did.
The coffee wasn't half bad, either!
We spent 6 hours walking, exploring the Old Port Market, taking photos, shopping (the favorable exchange rate was my excuse) and eating. I even dropped in on a charming realtor at Engel and Volkers to introduce myself and to tell her about Palm Coast and the Hammock, Florida. Quebec City is such a pretty place. Words alone can not do it justice.
There we were at 2:30 in the afternoon with time to spare before heading back to our Airbnb so we headed out to the Montmorency Waterfall. It is taller than Niagra Falls. I took a few dozen photos, but I think the video does it the most justice in perspective so hold on to the railing and imagine you are there.
That done and a growing thirst, and I am loathed to mention but I wanted still more ice wine even after the additional bottle that I had bought in the Old Port Market. I am very fortunate that my husband is always a good sport when it comes to my shopping. In fact, his usual comment is "does it come in other colors or flavors?". We returned to L'Isle d'Orleans which we could see just across the bridge from the waterfall. I ran in to purchase a bottle of the most concentrated ice wine from Isle de Bacchus.
Vignoble Isle de Bacchus
Ice Wine
Our thirst was calling and I thought that I'd remembered a cafe or restaurant just up the road from the winery.
Auberge La Grange
We found it! And we found Google. HaHa! That is the right order. Google didn't find it for us, when we found it we really did find "Google". I can't say what we enjoyed more: the Auberge la Grange (inn and restaurant), their terrasse, the vineyard views, the icy cold bottles of cider, the young owners and their first Cuvee dark rose made with their own pinot noir grapes or Google.
Google
Okay, we enjoyed Google the most. Who doesn't adore a puppy?
I could live at this place. Our only disappointment was of our own making. The dinner menu looked divine but we were unable to eat more after our late lunch in Old Town.
As the saying goes, "timing is everything. With a stop at the Jean Talon Market in Montreal on our way to our final destination of Burlington, Vermont. We were just in time for an early preschool celebration of Quebec National Day!
Jean Talon Market on Quebec National Day
It was also an incredible market.
Need I say more?